Some Very Good News
Nick went back to Camp Lejeune last Thursday, and hence the reason for my not posting late last week. Friday night he called and said that all his paperwork authorizing his terminal leave had been completed and signed. He comes home for good on August 31st. WOO HOO!!! This officially marks the end of his 4 years in the Marines.
What will actually happen is that we will have to drive up there to get the kid on Labor Day weekend, the third time we drive up there in a year, but knowing it is the very last time makes it so much easier to cope with. I really hate driving up there, even though I've been known to stop at the Hobby Lobby in Florence, SC along the way. It's not the drive on I-95 that gets me, it's the backwoods North Carolina part of it.
Also good news, bizarre as it may sound, is that the net result of Nick being here and my cooking all his favorite foods and buying his favorite take outs is that I gained 4 lbs. That may not sound like such great news, but I have been eating horribly for two months and for the past two weeks, it feelt like I had gained A LOT of weight. I was expecting the scale to say I had gained 10 lbs. So, I'm happy it was only 4. I can drop that much in a week, if I want to crash diet. Two weeks, if I want to be sensible about it.
What is not so great news, is that I've acquired cravings for foods that had been out of my life for some time. That is probably going to be the hardest to combat.
On to stitchy news: I have completed the third row of Rainbow Borders. The goal was a row a week, and I am behind a week, but I wasn't going to spend time stitching the last week Nick was here. So, here it is in its current state:

I am getting excited about the Rose Garden piece again. I can tell that the end is near. For those of you who haven't followed this blog for long, I have been stitching on this piece since the mid-90s. It was a project I started to take to my oncologist's office for treatments and once I had gone into remission, I had to put it away because of all the bad flashbacks I got when I would take it up again. Before, this piece was a reminder of some very bad and scary times in my life. Now it is a testimonial of my survival. The desert has indeed blossomed as the rose. There is a companion piece to this one. I started it a long time ago as a RR and it got lost. Don't know if I will stitch it, we'll have to see if when I hang this up on my wall, if I feel it needs its partner.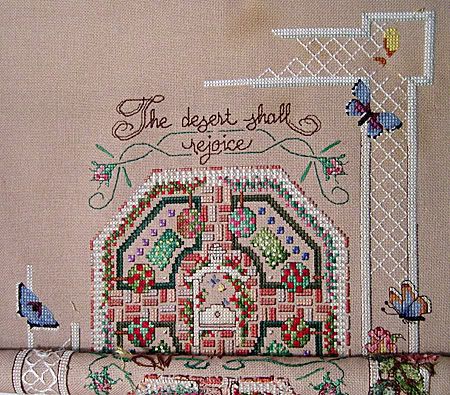 Yesterday afternoon I did stitch on the Sunshine State sampler. Yes, that dreaded over-one 8th row of hibiscus wasn't as bad as I thought it was going to be. I did realize that it would be easier if I had my hads free to stitch it, so the reason I don't have a picture to show is that I gave it to my friend, Tillie, so she could baste the fabric onto the stretcher bars of my Doodler Lap Stitch frame I bought over two months ago and haven't tried yet. I have sewing machine, but it's in the laundry room and I didn't want to bring it out and set it up. Since I don't plan to stitch on it until next Sunday, and Tillie is part of our Sunday group, I flaked out and gave it to her to do. LOL
I have more to say, but that is it for now. Hugs to all.