Time for Pictures
I realized it had been a week since the last time I showed y'all pictures of my stitching. First up is where I am with Rose Garden. It was further along than I had thought, and I really want to finish this piece now. Today is the day I will be stitching on it, and I hope to finish the corner.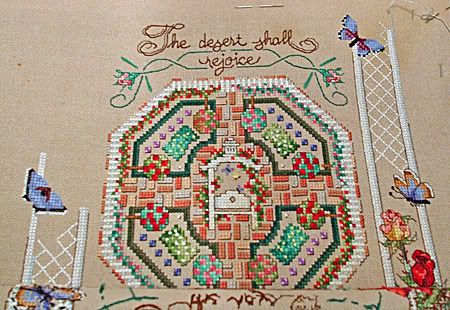 Second, and last, up is Rainbow Borders. I stitched a little last night at the SAL hosted by my LNS.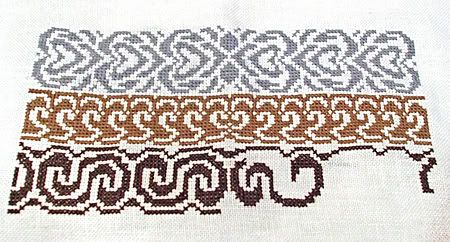 I would have liked to have been further along, but with Nick leaving tomorrow morning, it just wasn't possible. I've been trying to spend as much time with him even though he'll be back home for good maybe as soon as 6 weeks. His enlistment isn't up until October 13, but he can get 45 days of "terminal leave". So, either way, he's either home in 6 weeks, or home in 12. I have really enjoyed having him here and will miss him a lot.
One of the things I won't miss though, is his deleting my shows from my TiVo. He deleted Monday's "Next Food Network Star" show and I don't think it goes on again until next Monday. I tried finding the episode on Torrent and iTunes, but wasn't able to, so off I went to the Food Network to see what they had. They did have brief recaps and I got to watch what happened with the elimination.
I really don't know what the heck the judges were thinking. During their discussion they said that both Amy and Rory had the greatest potential as TNFNS, yet they eliminated Amy? I know that the network doesn't have a lot of spanish cooking shows - if any - but eliminating Amy because they're after the hispanic market, is not fair to her. I'm glad to see that she is now one of the finalists anyway and that she'll get the chance she was owed. As far as JAG is concerned, I really didn't think he was going to win, but his thinking that he was going to be able to make up his background and have it survive media and public "screw-tinization" is extremely arrogant of him.