Productive Tuesday
I took the fishing lure to work today to stitch on during lunch. Now the lure has a tail. It's official: it's my lunch piece from now on. I'm hoping to finish this no later than next week.
The rotation called for Rainbow Borders and it took me nearly two hours to stitch another motif of the third row. I'm thinking it's going to take more than this week to finish the row, as I rarely stitch more than 2 or 3 hours at a time.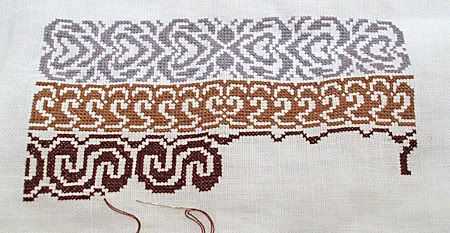 I realized yestarday that the main reason I feel "pressured" about my stitching is primarily because I have so many WIPs going. I realize that 9 may not seem to be a large amount of projects to have going, compared to so many other stitchers out there. Still, I feel that it's too much for me, especially when most of them are large pieces that take a long time to stitch. It makes me feel more determined to try to finish as many as I can as quickly as possible.
The secondary, but just as important, reason I feel pressured is the size of my stash. If you've been following this blog for a while, you've probably heard me say more than once how bloated I feel about the amount of stash I have. This became even more noticeable to me this past weekend while I was purchasing three Mirabilia releases: Mermaid of Atlantis, Daisy & Lily.
When am I going to find time to stitch all this and why do I feel a need to buy this up the moment it comes out??? I really don't know. All I know is that my stash keeps increasing exponentially and with it the pressure to stitch more.
I think I would feel more relaxed if my number of WIPs and the amount of my stash were significantly reduced. The difficult thing, for me, is to figure out how to accomplish this.
Tonight I will be stiching on The Rose Garden for the first time this year.