Paradigm Lost Update
I did manage to work about two hours on Paradigm Lost, it's not much on a project this size, but it's more progress than it sitting in my closet unfinished. Had to put the piece on the dining room table and get up on a chair to take the picture!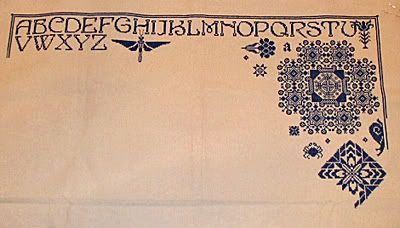 Last night I watched the season premiere of Big Brother 8. It was pretty bad last year but hope springs eternal. It's too early to predict anything other than "Evil Dick" is going to get booted out sooner or later. That guy has some intense issues.
Our eldest son, Rick, came over with a friend, Heather (not his gf, but a friend of all my sons) and I ended up making dinner for all of us. It's been a while since I've had these many kids in the house (sons Nick and Matt were also here as well as Matt's gf, Ashley). I know that 5 may not sound like a whole lot, but we've been used to being by ourselves for over a year now. All the noise and commotion gave me quite a headache, and they really weren't bad at all, which is what surprised me. I guess I'm getting old... lol
Catching up on old SBQs...
June 6th's SBQ was suggested by
Ish
and is: What has been your most challenging project and why?
My most challenging project to date is a toss up between Mystery VIII and Sunshine State Sampler.
M8 is big and has specialty stitches I've never tried. It's also is very repetitive which tends to put me off some. Just when you think you've finished, you got to stitch the same thing three more times. Then, if you flip the design you have to be careful not to change the direction of your stitches, which means half the time you're stitching opposite to how you normally stitch, which requires a lot of concentration and effort. I love Martina's designs, and I'm glad she's seen the light and has started to incorporate some changes.
Sunshine State sampler also has some specialty stitches I haven't tried, and some are a bit layered, that is to say on top of each other or need to be stitched in a certain order. It also has quite a bit of over one, which I don't particularly care for. This is probably why I am stuck on Row 8.
Today's rotation takes me back to Rainbow Borders. I don't have much to finish the second row.
See you all tomorrow.