Progress from Yesterday
I was able to squeeze in some stitching yesterday and managed to almost finish the second row of Rainbow Borders.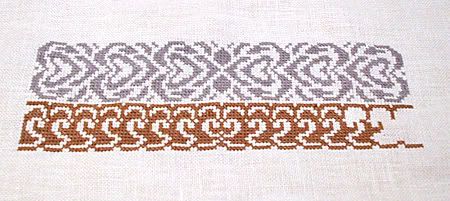 I know that Wednesday is supposed to now be for stitching on the Rose Garden piece, but I came up with the rotation yesterday and was not organized enough to be able to. Today I will be stitching on Paradigm Lost, though.
Catching up on past SBQs... this one from May 30th...

How many needles do you use during a project?
Have you ever loaded up a needle for every color?
Do you use a new needle for every project or recycle your favorite needle?

Usually I use no more than three needles per project. I may use just one needle if the project is small or if it is done in all one color. However, I usually have a package of needles close by.

I have never loaded up a needle for every color. I think it would be hard for me to keep track of so many needles. My good friend, Ruth, has come up with a cool way of doing so and keeping it straight which I plan to use when I stitch Silver Lining's Pink Tulips. I'll share it with y'all then.

Whether I use a new needle or recycle depends on the condition of the needle. Usually, I do recycle needles, especially the gold petite ones. They seem to last longer than the regular ones. But I wouldn't throw away a perfectly good needle just because I am finished with a project.