Proof of Finish & Ornie Progress
Just to prove I did go back and finish the backstitching, here is a picture of Sue Hillis' "Not A Prince" complety finished.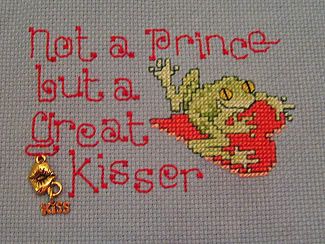 Also, yesterday I stitched a little bit on the next ornie in CEC's 12 Days of Christmas series, which is a French Hen. I decided to do her face and her legs to see who I am stitching. It's going a whole lot faster than I thought. All that I need know is her hat, finish her dress, and her two wings. Hopefully I'll be dancing again on Monday.
Tomorrow morning - very early - I am taking off with my good friends to Venice, FL to catch a travelling EGA exhibit. Will take pics to share with y'all Monday. Hope everyone has a great weekend. Stay warm!! (We''ll be wearing shorts... lol)