SBQ & HD
Today's
SBQ
is:

Do you use your needle, a seam ripper, or something else when you haveto frog stitches? Why do you use the method that you do?

I use my needle most of the time if I am ripping a few stitches and planning to continue stitching with the same thread. If I plan to rip an entire area, and saving the thread is not desired, I have been known to take scissors to the top cross of the stitch and break them all this way. I use my needle and scissors because I feel I have better control of them than if I used a seam ripper. I want to be gentle on the fabric and not tear it.

Last night I finished the Lighthouses of Florida. I haven't taken a picture yet, but I will and post here. I did remove it from Current Stitching Queue on the side bar and added it to the finishes of 2007. Speaking of frogging, I frogged the mermaid's hair and eyes because I didn't feel they stuck out enough. I think it looks much better this way.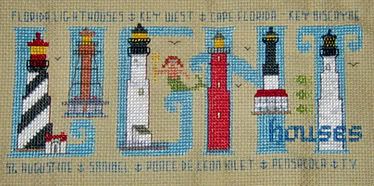 So, now next on the stitching to do list is to start on the 4 Calling Birds, the next piece in the CEC 12 Days of Christmas series. I've pulled all the threads I need for it and found the fabric, so it's all ready for me tonight.
Also, since I hadn't taken a picture of Long Dog's Paradigm Lost in a while, I decided to take one for y'alls amusement. As you can see, I haven't stitched that much on it. But every little bit counts.