I WON!!! I WON!!!
I went home to eat lunch today and found the most awesome surprise in my mailbox....


Back in February - and I'm not sure how I got there - I discovered CraftSanity and it's podcasts. I listened to a podcast with Monsterbubbles' designer, Heather Holland-Daly, and enjoyed it so much that I burned it onto a CD so my friends could listen to it on the way to (or back) from EGA's travelling exhibit in Venice, FL. It ended up being on the way back and they all enjoyed it a lot. It might have been the final push one of them needed to finally get an iPod.
I heard something in the podcast about a contest, and found out how to enter on the website and thought nothing of it since. Until today that is. Woo Hoo!! The design in this kit is based on a tatoo Heather Holland-Daly designed for her left forearm. It includes the design, screen, sandwich screen frame and hardware. Thanks a lot Jennifer!!!
While I subscribed to the podcast, - it's a monthly - I've also have listened to a few back ones. Let me tell you, they are really great! I've gotten a lot of insight into the creative process through them. So over there and check CraftSanity out!!!
I was driving back to the office - and was in such a good mood and it was such a great South Florida day - it dawned on me that I've never shared pictures of my lovely views I get to enjoy on a daily basis with y'all. And since for the past 10+ days I really have not posted many pictures. (Actually just one). I guess y'all are due... So, without further ado...
This is the East view from my office. The dark blue line on the horizon is the ocean. Really. It's more noticeable in person.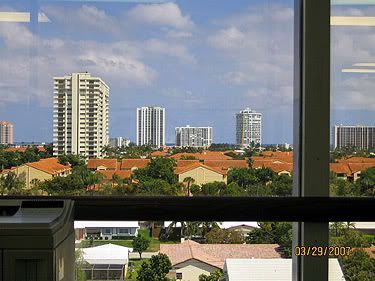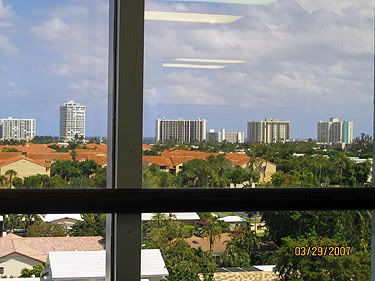 This is the North view from my office. I don't think you can tell, but there's a big white rectangular building on the far middle right of the first picture and the left of the second picture. It's the hangar for the Goodyear Blimp. I get to see it launch and return quite often.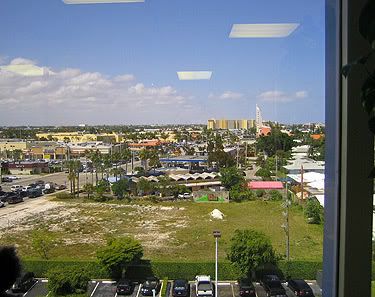 SEE??? TOLD YA...

On the other side of the office, I can actually see where I live! I will try to take a pic tomorrow and show you all...