HD & Sunshine State Sampler Update
Had a great afternoon yesterday at my friend, Ruth's, house. We had our own "stitch-a-thon" and I managed to finish stitching on CEC's Four Calling Birds and made some really impressive progress on The Sunshine State Sampler!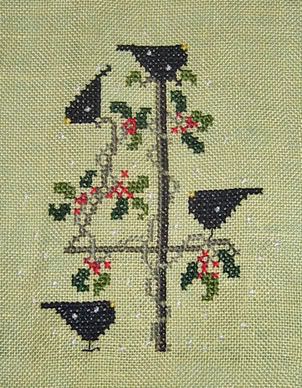 At first, I thought the white Kreinik "snow" was not going to show up enough to bother stitching, but after putting in about the first half, I noticed that it added some texture to the design and made it more interesting. I did carry threads like crazy in the back, but it's Kreinik and it's light, so it's not going to show up. Once it's made into an ornie, it's not going to matter. Probably won't take it to the next EGA meeting though... LOL
As I wrote about a few days ago, I had stitched all of the fruit (sans leaves) except for the lime at Tuesday's SAL at the Cupboard. Yesterday I finished the cross stitching, the back stitching and the long stitches on Row 5 and finished Row 6 to boot! Tillie is going to have to do some really mad stitching to catch up! I don't understand why the coconuts in Row 6 have two french knots to them. I've never seen coconuts like this and I can't make up my mind if they look like bowling balls or if they are freakishly "looking at me". I guess this is what happens when Canadians try to design tropical themes.
I've haven't had a single problem accessing my blog since I switched over to Mozilla Firefox browser. I think the problem might not be with Blogger at all but with IE7 and I am guessing that it has a problem with the Slide widget in the sidebar. However, I noticed on Firefox that my sidebar was not displaying correctly and when I looked at the code, I noticed an extra closing tag. Once I removed it, the sidebar displayed correctly and, coincidentally (or is it?) I no longer had problem with IE7. So.. who knows where the problem actually lied.

I'm taking a long, hard look at the 11 remaining WIPs I have. The goal for this year is to bring the number down to 11 and, having finished one already, it's safe to say I am "on track" to meet this goal. However, it's dawning on me that the reasons for stitching some of these is not very solid and I have no enthusiasm for some pieces. I may have to prune these wips a little bit more so I am looking at the reasons I want to stitch these pieces and not force myself to stitch them merely because I have started them. This is what I concluded:

A - The Needlepoint Lady is coming off.
1) I'm happy displaying her as she is for the time being, though
2) I should touch up the eye area, but
3) my current needlepoint skills would probably not do justice to this piece

B - Janlynn's Lighthouses is coming off
1) I already have another large lighthouse piece
2) I like Debbie Patrick's better
3) the lighthouse phase is totally out of my system (for now)

C - The Cappuccino Towel is coming off
1) The reason for stitching it is because I have three others
2) I never display these towels and I have probably a dozen stitched already
3) The one I really want to stitch from this series is Java

D - Maidens of the Season - Spring is under contemplation. I may "donate" this piece to my friend Measie.

So, there you have it folks. I will leave these pieces on the sidebar a little while longer so those not so familiar with my blog know what the heck it is I am babbling about. I will revise the goal because I have removed 3, maybe 4 pieces. Probably the new goal will be to finish with 4 pieces. Does that seem fair?