Time to Update
I didn't do a whole lot of stitching this 3-day weekend. Saturday I reformatted my Dell tower. I had been wanting to do it since June, but knowing what a PITA it is, I kept putting it off. It took me about 24 hours to get it all perfect and reinstall all the software that had been added to it.
One of the main things was The Sims 2 and all its expansion packs, which are 3 (University, Night Life & Open for Business) plus 2 "stuff" packs (Family Fun & Glamorous Life -this last just came out this past week). I got pretty caught up fixing the computer, and then playing Sims 2, which I did practically all day yesterday. I got to hand it to G-d. I am going nuts managing 60 people, I can't imagine looking after 5 billion!
This is how the Rose Garden looked at the end of August. I am very satisfied with the progress and am toying with the idea of keeping it as the focus piece for September and see how close I can come to finishing it. Not much change from the last update, I know.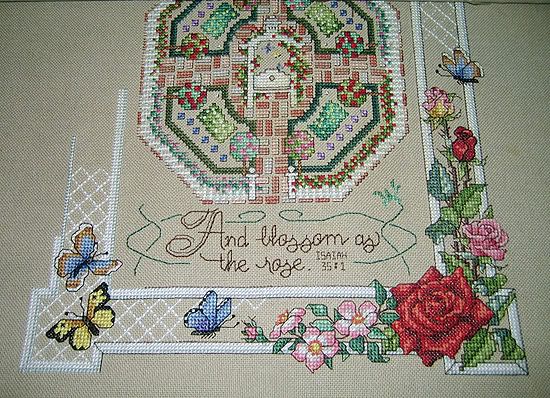 Below is my lunch project, one of those "Stitch Every Day" pieces from JABC. I am loving how it's coming out - so psychedelic! I still don't know how it will be finished, but right now I am thinking of not stitching the date and just stitching "Feel The Love" underneath.
Well, that's it for now - see y'all tomorrow!