Progress Pics - Rose Garden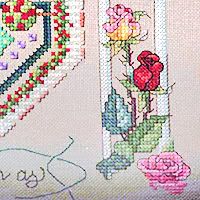 It really is interesting to watch a project progress - especially a large one. Once upon a time, I wasn't able to stitch on the Rose Garden without getting flashbacks to being at the oncologist's office receiving treatments. Now, I am once again falling in love with this piece and I love to see how it is progressing. Below are pics from where I started out at the beginning of the month to last night.

This picture was taken a long time ago, but is where I started out. You can also see it in the Gallery at
www.stitchyfingers.com
This is where I was on Saturday night. I didn't take any pictures on previous days - I really didn't think I had done all that much.

I guess I was wrong!

This was August 5th, 2006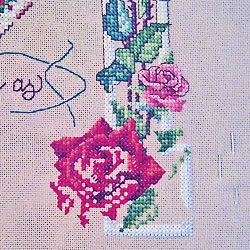 Sunday evening, after a lovely afternoon stitching with my local friends, I had nearly finished the big rose.

I also reached the bottom of the trellis.

It was at this point that I became enthusiastic once again for this piece.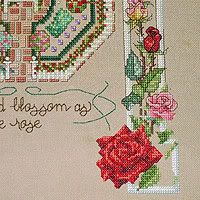 Monday night, I finally finished the rose.
It still needs a lot of back stitching, but you can tell how pretty
At this point, I find it hard to believe that I ever put this down!
Then, to the right, on the sidebar, you can see where I left off last night.
I was only able to finish the leaves around the big rose, nevertheless, it's a lot of fun to see this pictures that show how work progresses, isn't it?